Start designing typefaces with ease
TURN YOUR IDEA INTO A FONT CHEAP, FAST, AND FREE OF TECH HEADACHES
You want to make your first hand-lettered typeface, but where do you even begin? Aside from writing letters on a page, what turns your marks into a functional, digital typeface, and how long will that take? And how much is it going to cost?
Fast Fonts is a full-featured course that will show you the technical aspects of creating fonts from scratch, and give you a unique perspective on typography delivered in a way that's fun and easy to follow along.
The purpose of this course is to help you become technically proficient to give you the confidence to repeat the process as often as you wish, whether you're making fonts just for personal use, or turning them around to share and sell to others.
Explore the complete list of lessons
[click the arrow do-dad at the bottom for the full list]
Meet Your Instructor
I'm Dave Conrey.
I'm a designer and artist from Southern California and currently working toward building a "client-free" creative business model. When I'm not working on my own creative projects, I spend my time on making tools and training to serve others. I make the things so others can go make their things, and ultimately put more cash in their pockets.
For over 20 years, I've worked in the design field in various capacities, from boutique design and advertising agencies, to large publishing conglomerates, as well as many years as an independent contractor.
The creative struggle is the divine right of every artist, designer, illustrator, or maker of things, but perhaps my experience can help lessen the load. I look forward to that opportunity.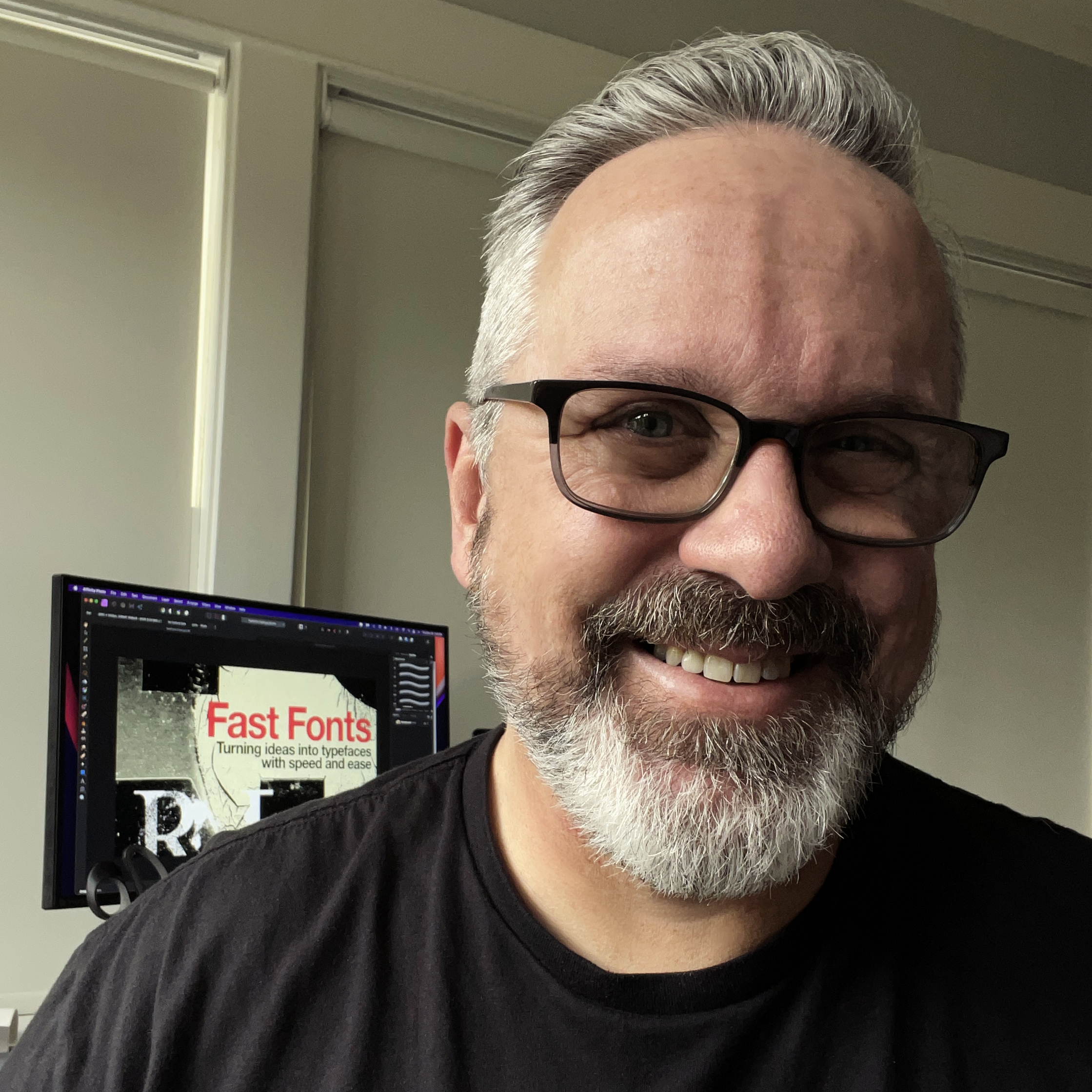 Fast Fonts FAQ
FREQUENTLY ASKED QUESTIONS ABOUT THE COURSE
⦿ When does the course start?
The official open date is January 17, 2021, and then it will remain open indefinitely.
⦿ How long will the course take to finish?
There are currently over 20 different chapters to the course, most of which are videos. Each video will vary in length, and I'm trying to keep them under 10 minutes each (with a couple of exceptions).
⦿ Does the course have an expiration date?
Your enrollment is valid as long as this course is available online, and I have no plans on removing it outside of unforeseen circumstances.
⦿ Can I stop and come back to the course later?
Absolutely. Whether you stop between sections, or in the middle of a video, your place will be held and you can come back to it when you're ready.
⦿ Can I watch the course more than once?
Once enrolled in the course, you can go back and watch the video as many times as necessary.
⦿ Will you be available for questions if I don't understand a section?
I will be available for email messages, and I'm currently looking into starting a private Discord channel so students can interact and share with each other.
⦿ Do I need to know how to draw?
For this course, no. The extent of drawing skill needed will only be your own hand lettering.
⦿ Will we be learning how to do handcrafted letters?
No, unfortunately, calligraphy isn't part of this course. You will learn about typographic basics, and you will learn how to turn your hand lettering into a font, but we won't be talking about how to create letters by hand.
⦿ Do I need previous graphic design experience?
Having an understanding of typography and design will definitely be beneficial, but not required. We will be talking about these subjects in some detail, at least enough to provide you with a better experience as you work through the projects.
⦿ What type of hardware/software do I need?
A computer with Internet access is recommended, and a way to capture images (flatbed scanner or high-resolution camera). If you have a smartphone with a reasonably good camera, that should be enough. As with anything tech-related though, the more recent the tech, the better. Also, any graphics software will suffice for our needs. Once inside, I provide a resource list of recommended software solutions, both paid and free options.
Important Disclaimers
As much as I want you to find success with this course, unfortunately there are some variables that I cannot control. Having adequate hardware is one, and technical prowess with graphics software is another. It's my goal to simplify this process as much as I can, but your results may vary.
Also, you should assume that any links leading you to any products or services are affiliate links that will result In my compensation. That said, it has always been my determination to only share the products and services that I use myself and/or endorse with full conviction. I value your trust in me and I won't jeopardize that.
© 2021 Dave Conrey Art & Design